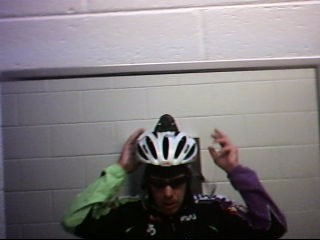 First of all, I think Jeff Frings needs to redo his bathroom. Second, I thought the green sleeve was always on the left arm. Anyways - He has finally conformed to the blogging lifestyle. The site?
It is going to be filled many USE able (how-to) homemade cycling accessories as well as Video, tons of video. The name,
BikeSafer
, is not random either so take note. Come this spring you will be able to follow his journey for a 24-9 DUO podium with fellow EXPO rider,
Johny G
.